No stale imagery. No legal jargon. At Deviant Marketing, we do website design for attorneys that: 1) attracts clients to you and 2) makes them want to hire you by clearly articulating your unique brand.
1. Getting clients to your website
You may have the most beautiful website ever created, but if clients can't find it, it is not going to help your law firm. About 91% of web pages get zero traffic from Google. Don't let that be you. At Deviant Marketing, our website design for attorneys focuses on SEO management because we don't want your firm to be the needle in the haystack of 2 billion websites.
What in the hell is SEO? If you have heard that term before and have no idea what it means, you are not alone. SEO is search engine optimization. Still not ringing a bell? The short explanation is that SEO is everything related to Increasing the quantity and quality of your website traffic.
The long answer is…well, we won't be giving you the long answer here. It is too long and there are so many things that go into SEO management that it would be ridiculous to try to discuss them all here. However, we can show you some strategies that will make sure you are found by Google and more importantly, your potential clients.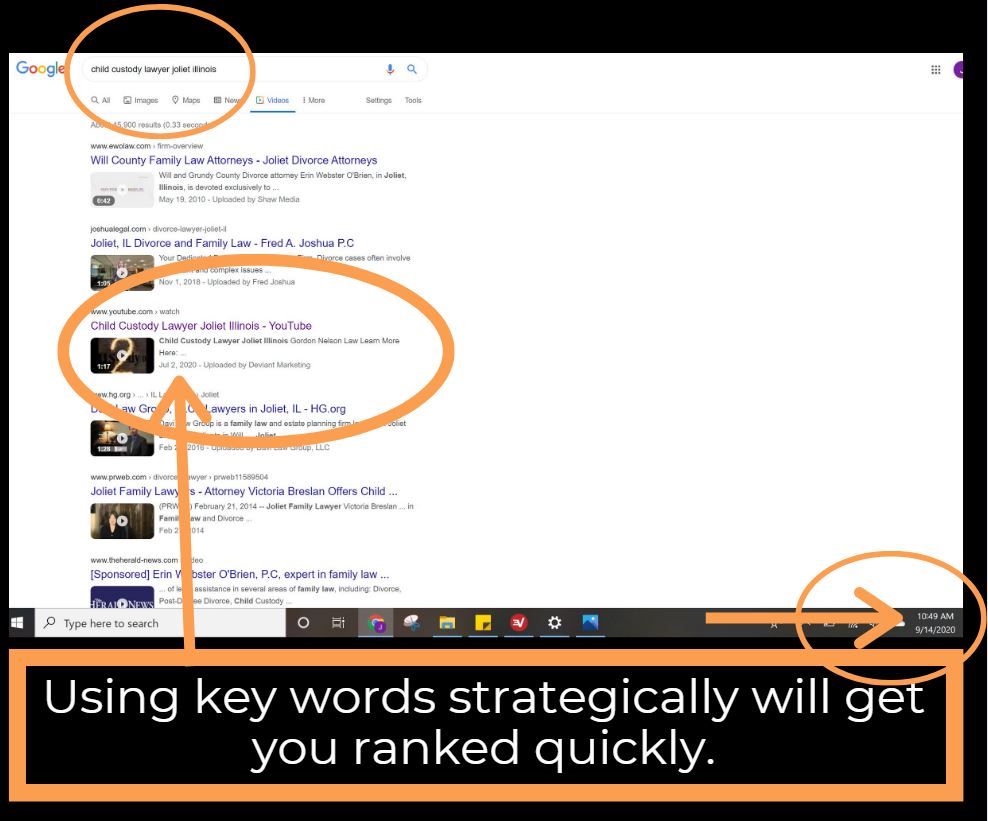 In order for clients to find you, you have to know what they are searching for. And, you have to use those terms strategically to ensure you are providing the content that people are looking for. Our website design for attorneys will get you more clients because we figure out what they are looking for and what type of content they want.
---
High quality content is essential for driving traffic to your website and video is one content format that can be very powerful. In general, video is underutilized, so the impact it can have on overall SEO strategy is great. At Deviant Marketing, we will seamlessly integrate video content into your website to meet specific goals and bring more clients to your website.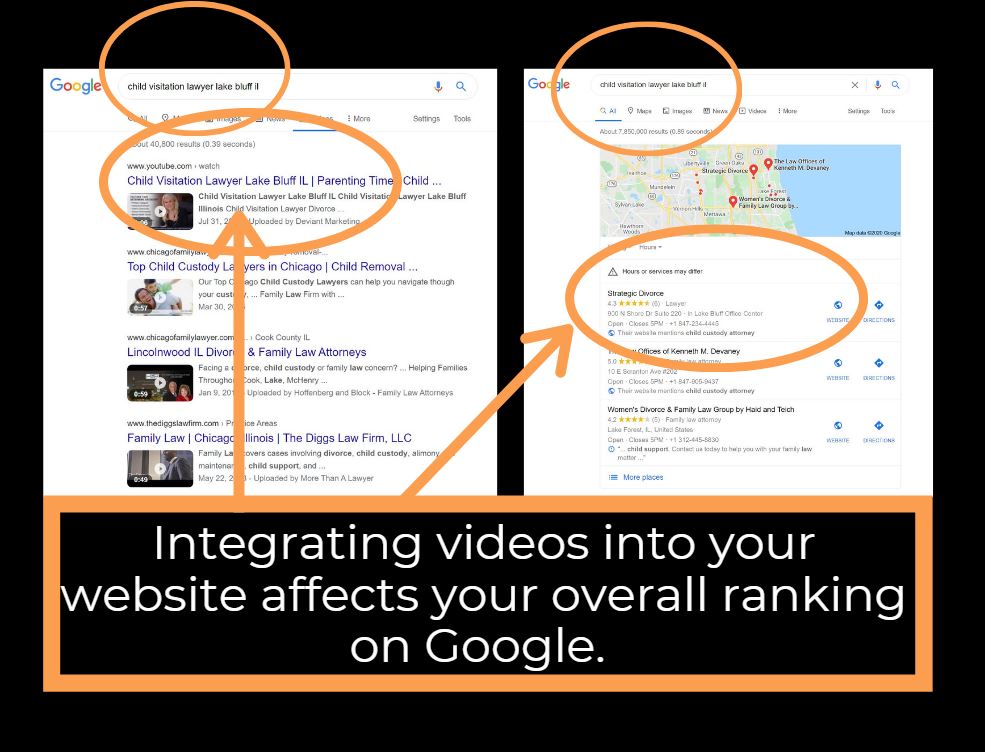 ---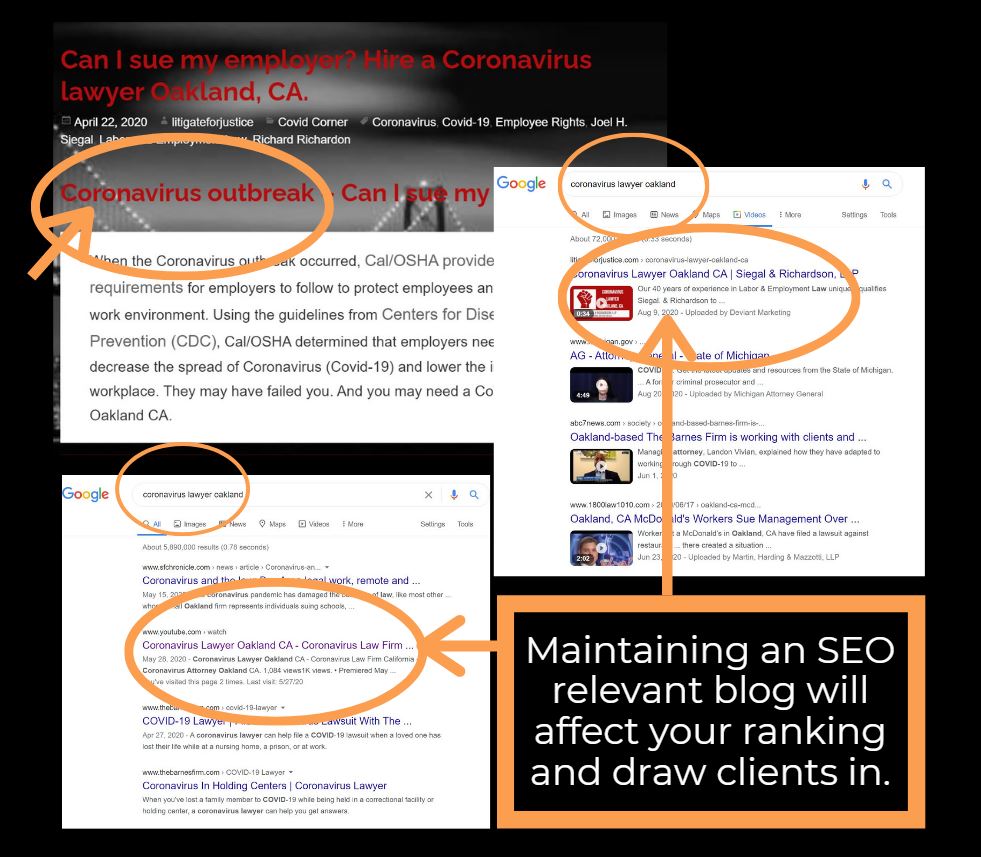 Blogs aren't just for travel writers or aspiring authors any more. These days, you have to have fresh and relevant content that continues to bring people to your website. As part of the overall SEO strategy, our website design for attorneys will consistently craft content for your website that potential clients want to see.
---
2. Designing a website that makes clients want to hire you by clearly articulating your unique brand.
When you can swap out the name of any law firm and the website content is still applicable, there is a huge problem. If you're looking for a website design for attorneys that looks like this, we are happy to point you in the direction of one of our competitors.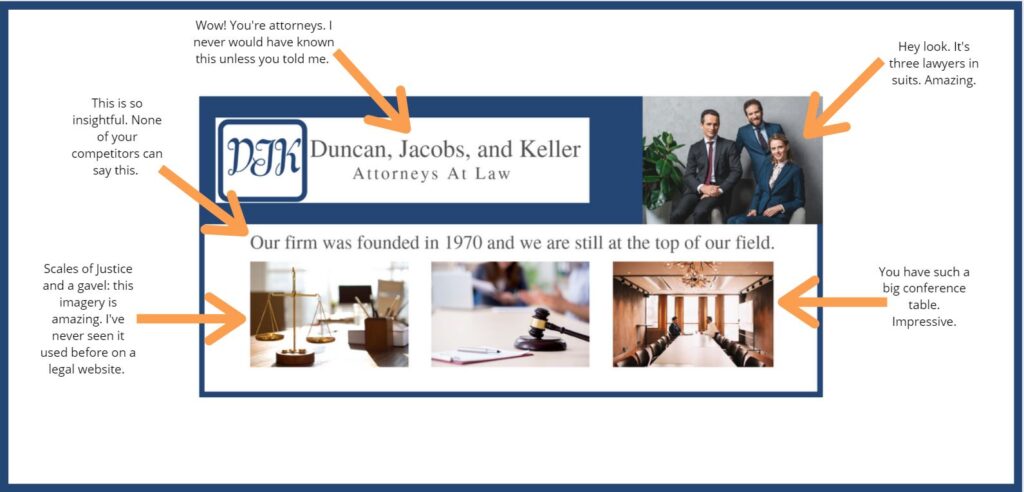 If you are looking for a website design for attorneys that is different, you have come to the right place. We will ensure that when SEO draws people to your website, they will not click away.
As soon as a potential client opens your website they should feel something. Whether you want a potential client to feel inspired, motivated, protected, reassured, or anything else, your website from start to finish, should give them that feeling.
Sites that do not create an emotional response are easily forgotten. Being forgettable is the death of any business and we will not let you be forgettable. Potential clients will remember your firm and become clients.
---
Your website can help you get the clients you want. Let's face it, you have an ideal client in mind. You don't want anybody and everybody. That is why your website design should not appeal to everyone either.
Whether it's typography, color scheme, layout, imagery, branding, copy, or any other essential elements, our website design for attorneys will focus on sending a message to and bringing in the types of clients that your firm wants.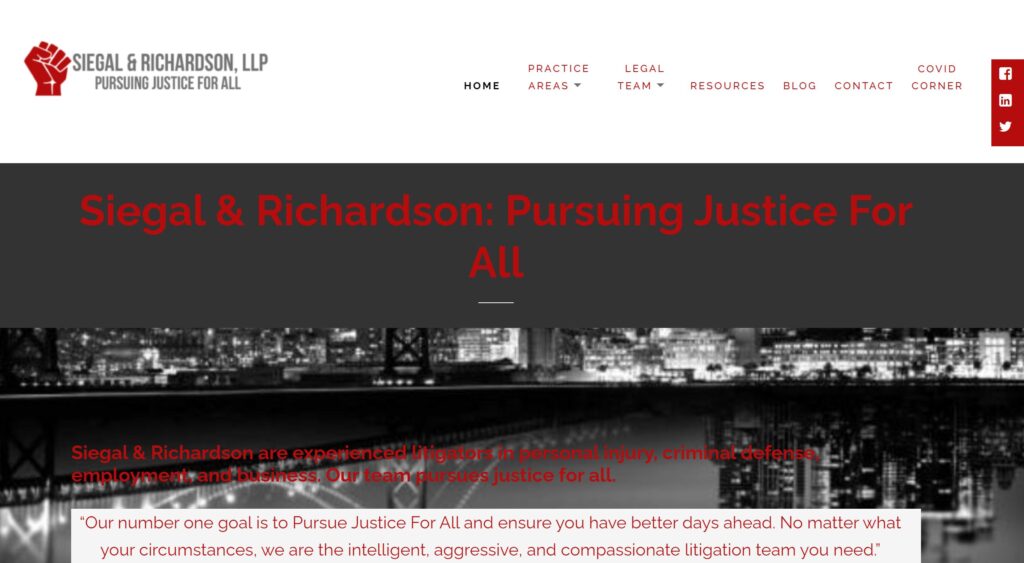 ---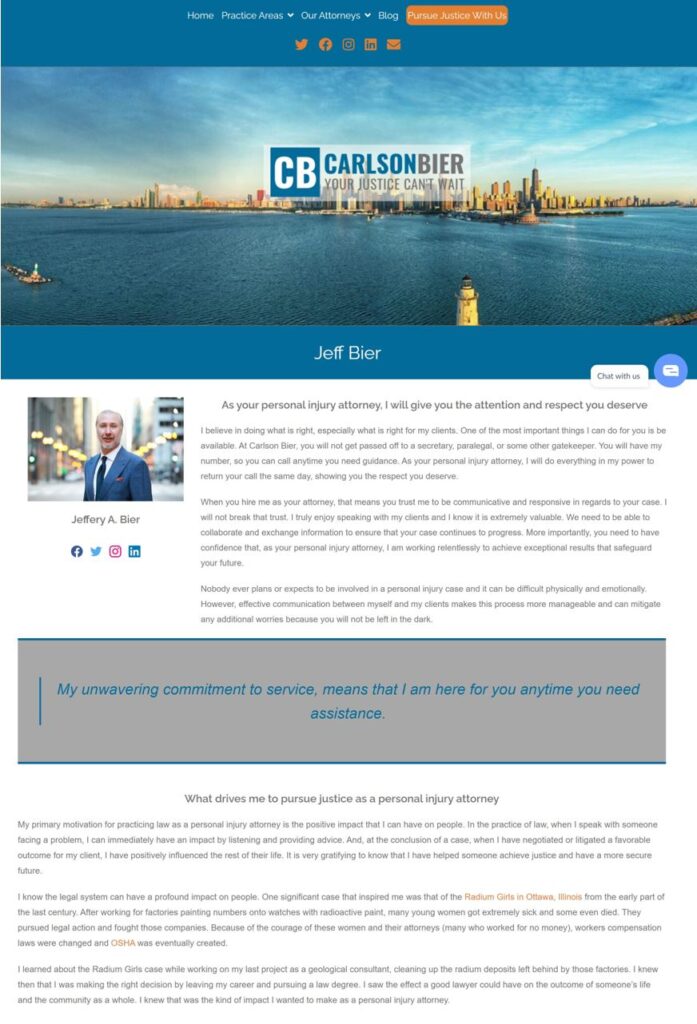 Why are most attorneys bios written in the 3rd person? Why are they just resumes written out in paragraph form? Nobody wants to read your resume…that is why you don't put it on your website.
Bios account for about 80% of website traffic for law firms and studies have shown that clients want specific examples and information about how an attorney will help and support them. They also desire a personal connection and want to read about a human being, not a robot.
With Deviant Marketings website design for attorneys, we will ensure you have compelling copy on your most consumed pages, the biographies.
---
Images are extremely important for SEO and ranking on Google. They are even more important to your potential clients. People remember about 80% of what they see and only 20% of what they read.
Your clients need to see something other than the scales of justice and a gavel. Your potential clients need to see what your firm is about. You potential clients need to see the impact you can have on their case and on their lives.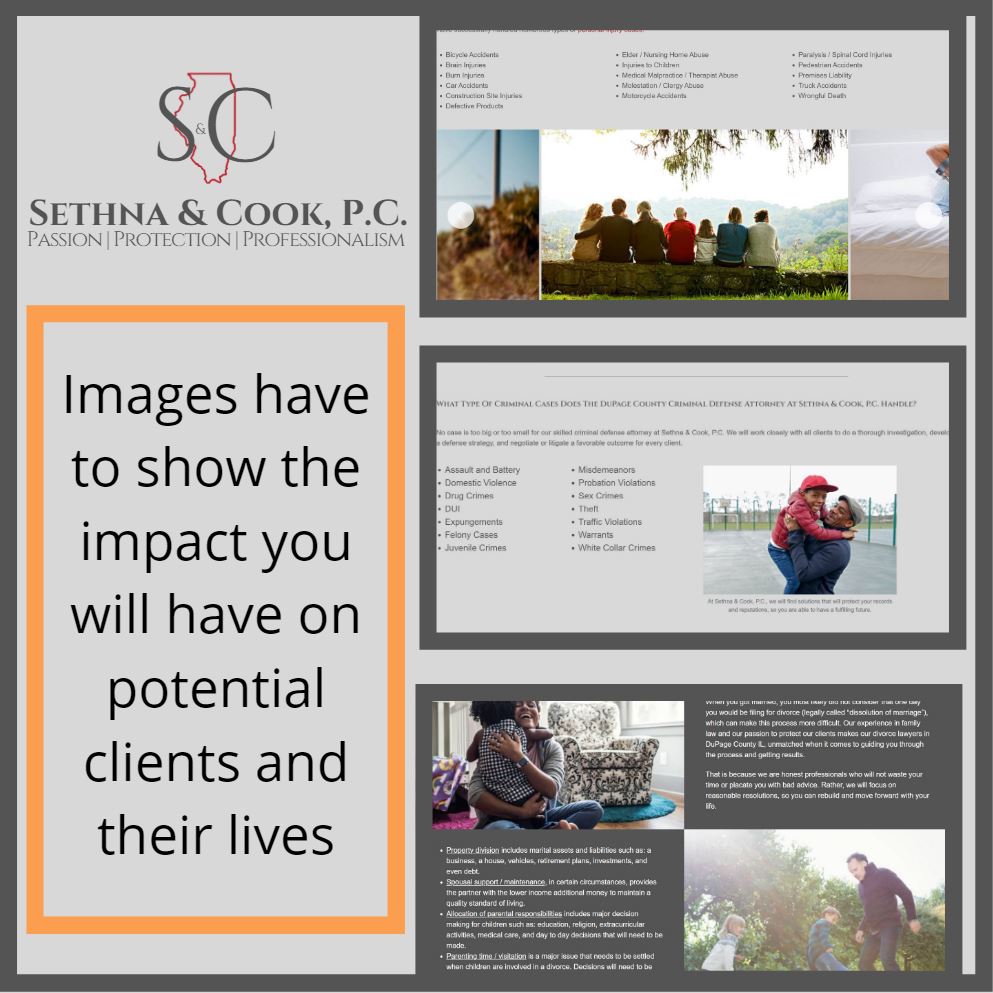 ---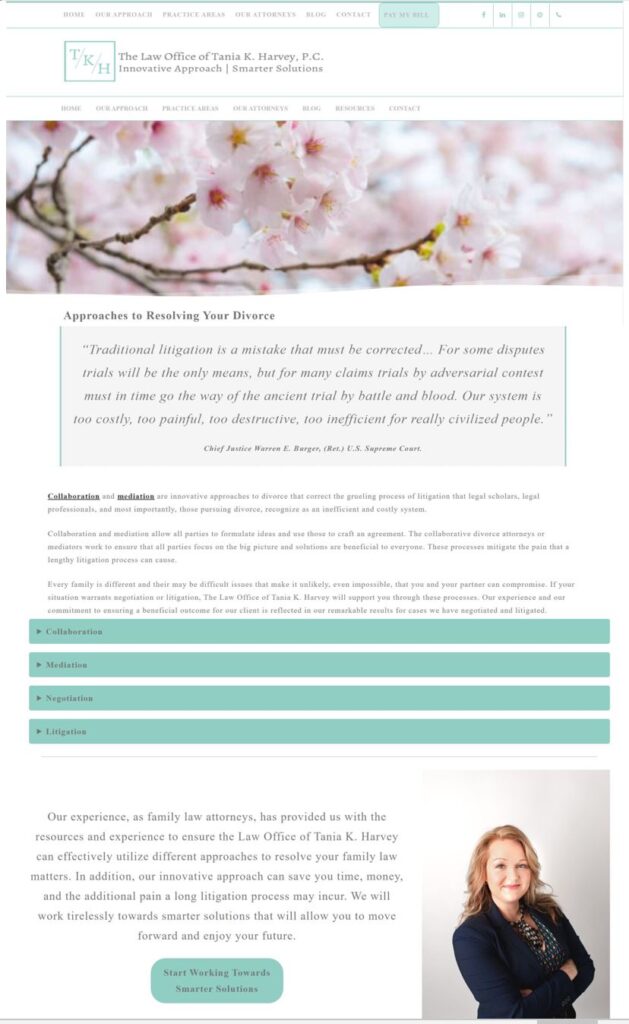 Of course your written content is important. However, people typically scan your primary pages, rather than reading every last written word. That means, not only is the copy important, but the layout of the content is important as well.
We will make sure that all skimmers and scanners get a clear picture of what your firm is about, how your firm will handle your case, and how their lives and future could potentially be impacted when they hire your firm.
---
When people are able to find your firm and you have high quality content to offer, potential clients become clients. We engage in website design for attorneys that is unique and that brings clients to you.